Asheville Boys Summer Classic
The Asheville Lacrosse Classic is located in the beautiful Blue Ridge Mountains of North Carolina, Boys Only on June 15th & 16th, 2024. Our goal is to provide your team with an organized and fun weekend, with a positive environment that encourages sportsmanship and competition. Offering coaches' reception, vendors and more, The Asheville Lacrosse Tournament is designed to keep your family engaged and entertained!
Asheville is located in the heart of the Blue Ridge Mountains, and is a unique city that offers first- class hotels, restaurants and activities that can please everyone. With cooler summer temperatures, The Asheville Lacrosse Classic offers a great environment for your team to compete and play this summer.
Boys: June 15-16, 2024
Buncombe County Sports Park
& John B Lewis Soccer Complex
Asheville, NC
College Coaches/Recruiting
We ask that all college coaches RSVP so we can email you rosters before the tournament and have a printed packet on site for your check in.
2024 AVL Boys College Coaches RSVP
Parents and Players
Click below to see which coaches will be in attendance
Boys Divisions
2025 ($1700, $500 Deposit)
2026 ($1700, $500 Deposit)
2027 ($1700, $500 Deposit)
2028 ($1700, $500 Deposit)
2029 ($1700, $500 Deposit)
2030 ($1700, $500 Deposit)
2031 ($1700, $500 Deposit)
2032 ($1700, $500 Deposit)
2033& younger ($1300, $500 Deposit)
(All teams play in a seeding "pool play" on Saturday. Sunday #1-4 seeds play for A Champ; #5-8 play for B Champ; #9-12 play for C Champ, etc.)
This ensures a fair and balanced tournament for all teams, with EVERY team getting a chance to win a championship.
Register your club/team early for what is sure to become a yearly favorite of the lacrosse community!
Games will be played on 5 well maintained, Bermuda grass fields and three brand new lighted turf fields at Buncombe County Sports Park and four brand new lighted turf fields at John B Lewis. Note: we will advise which divisions will play at JBL. Generally the two oldest divisions will play there.
Do not hesitate to email us with any questions: trent@cblax.org or steve@cblax.org
Please see the attached links for tournament rules:
Buncombe County Sports Park Field Layout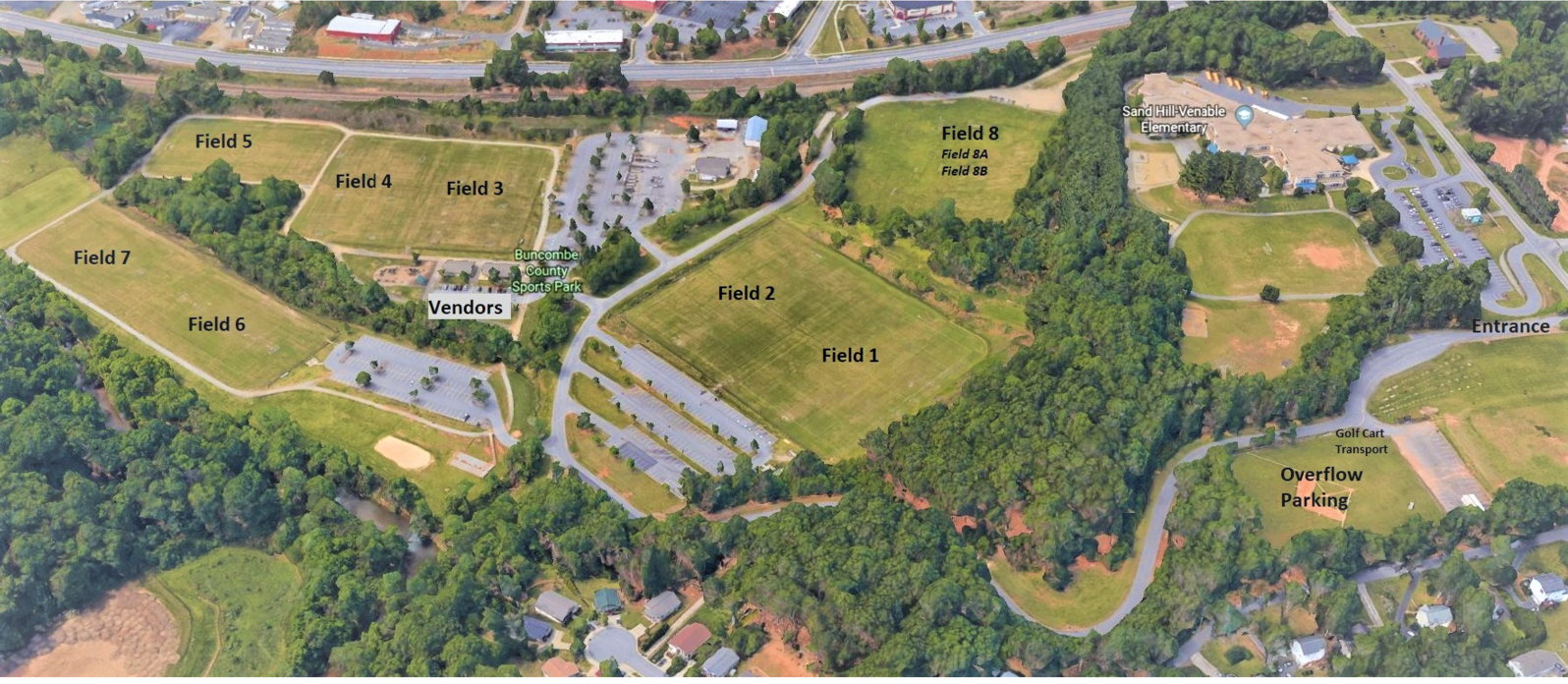 John B Lewis Park Field Layout