LKN Tourney at Mazeppa Park and Richard Berry Park
All Boys teams will play at Mazeppa Rd Park, the facility we have been using over the years.   
Mazeppa Rd Park Field Map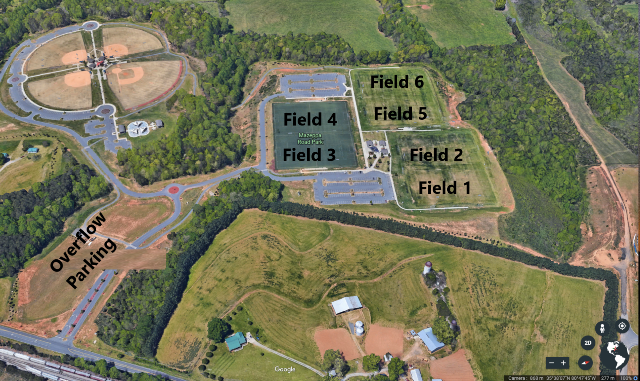 All Girls teams will play at Richard Berry Park (13707 Beatties Ford Rd, Huntersville, NC 28078) which has 6 lighted fields (4 Turf and 2 Grass) with parking adjacent to the fields.   
See field layout below.   NOTE: Google earth does not have updated image of the newly turfed fields.   Fields 1,2,3 and 4 are brand new turf with fencing around them.   
Also notice the parking lot is one way, please observe the parking rules so everyone can have a safe and easier parking experience.  
Richard Berry Park Field Map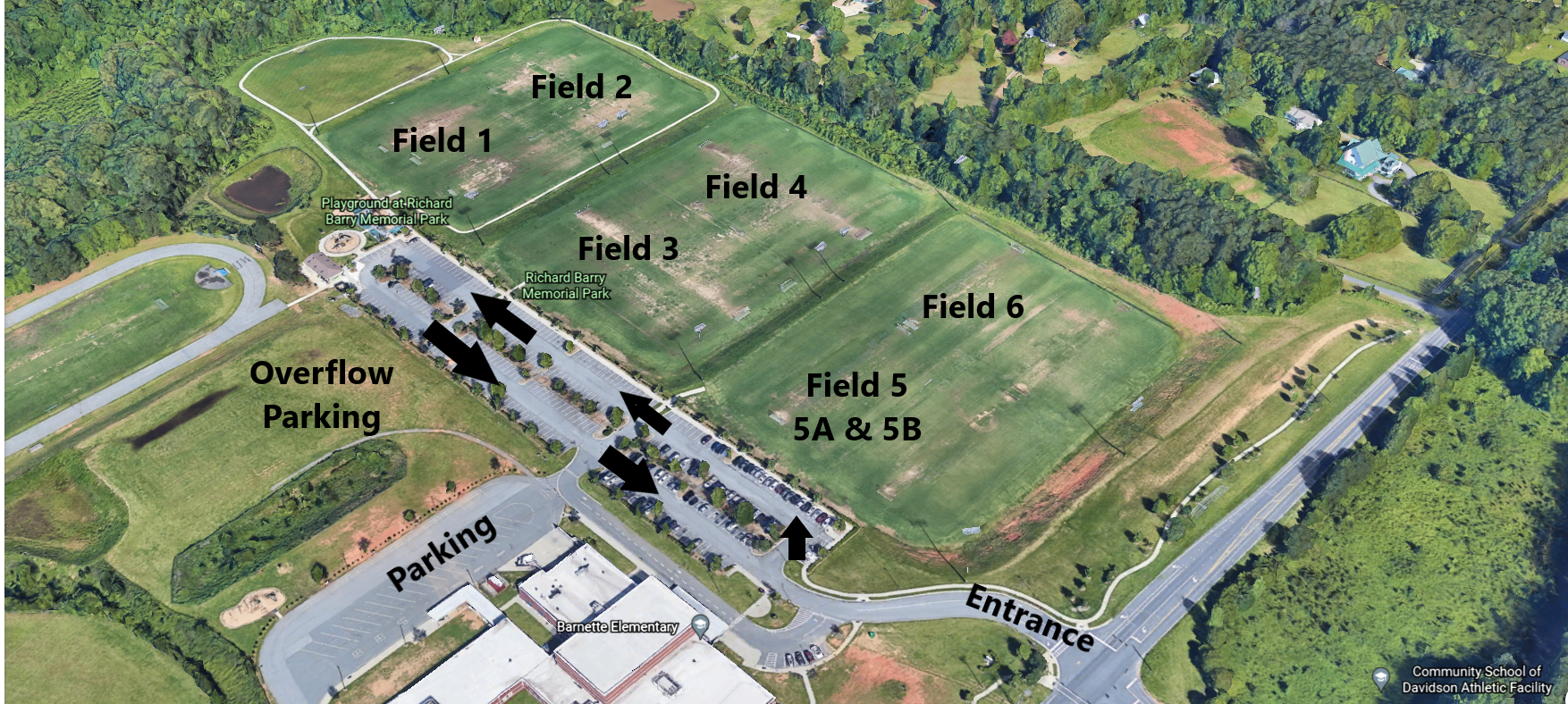 College Coaches RSVP - All Tournaments
All players must complete a waiver in order to play. 
All Tournament Waivers should be completed on League Apps site.
Parents Registration/Player Sign Waiver Process:
****Go to our registration page and select the tournament and division for your child*****
Select the blue "Register/Sign Waiver" button.
Create a Parent Account. (NOTE: You must have a unique log in for Carpetbagger Lacrosse, if you have a league apps log in with another organization it will not work)
Select "My Child" when prompted for info on who you are registering.
Create a Player Account under Enter Player Info and click NEXT.
When prompted select "Team Player".
Select the player's club team under the drop down menu labeled "Select Your Team".
Complete the rest of the required form fields in the Player Information Section and click NEXT.
Read and acknowledge the waivers and click NEXT.
Add any additional players by clicking "Add another registration".
When all players have been added, click COMPLETE.
Team Admin/Coaches Process
After a team registers, their coach/team admin will be asked to invite players which will send the parent an email asking them to "register".   
Once a parent receives the invitation, they will log in (create a new account) and complete the electronic waivers via the registration process.  Once done the player will be added to the teams roster.
Each player must complete the tournament waiver and the COVID waiver which is automatically done upon registration.   
All teams will be tracked to verify roster submissions and completed waivers.  
This process will allow us to have rosters to provide to college coaches.   
Coaches/Team Admins will have the ability to see who has registered and completed the waivers.   They can also send messages to their team from the website if they desire.  
Registration and Schedule Process
Registration and Scheduling:
We have partnered with our website provider to provide what we hope is a smoother and easier process to register for all our events.   All registrations will now be completed via League Apps.   Please select the Register buttons throughout our site and follow the process.
Scheduling will still occur on Tourney Machine and utilize their mobile app.  
X10 camps coming to Asheville!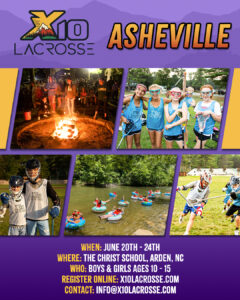 Announcement!
We will be partnering up with X10 Boys & Girls Overnight Lacrosse Camps run by the Bocklet Family again this year! The camp will take place in between our boys & girls Asheville tournament on June 20 - 24 at the Christ School in Asheville, NC. 
At X10 campers get the opportunity to learn from the top professional players while also enjoying the traditional sleepaway experience fun-- think campfires, tubing, talent shows, hiking and all the outdoors sports you can imagine! 
Register Today: Using "Carpetbagger" Code & Save 10% OFF Registration 
More information: www.x10lacrosse.com/asheville
Email: Info@X10lacrosse.com