LKN Tourney at Mazeppa Park and Richard Berry Park
We are excited to announce we will have over 100 teams attending the LKN Fall tournament on November 6-7 weekend.   Due to this number of teams, we will be utilizing two great locations.    
NOTICE:    The Boys division is sold out.   We have very limited spots for the Girls division.   
All Boys teams will play at Mazeppa Rd Park, the facility we have been using over the years.   
Mazeppa Rd Park Field Map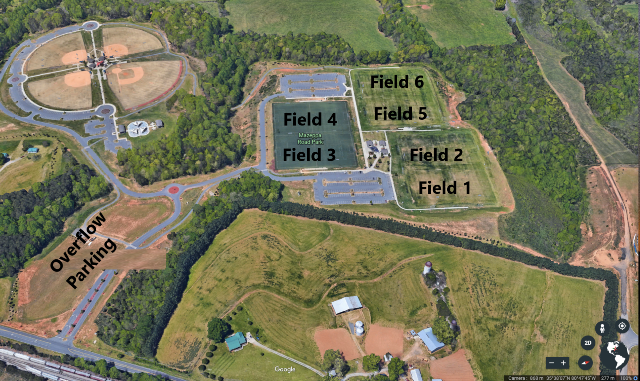 All Girls teams will play at Richard Berry Park (13707 Beatties Ford Rd, Huntersville, NC 28078) which has 6 lighted fields (4 Turf and 2 Grass) with parking adjacent to the fields.   
See field layout below.   NOTE: Google earth does not have updated image of the newly turfed fields.   Fields 1,2,3 and 4 are brand new turf with fencing around them.   
Also notice the parking lot is one way, please observe the parking rules so everyone can have a safe and easier parking experience.  
Richard Berry Park Field Map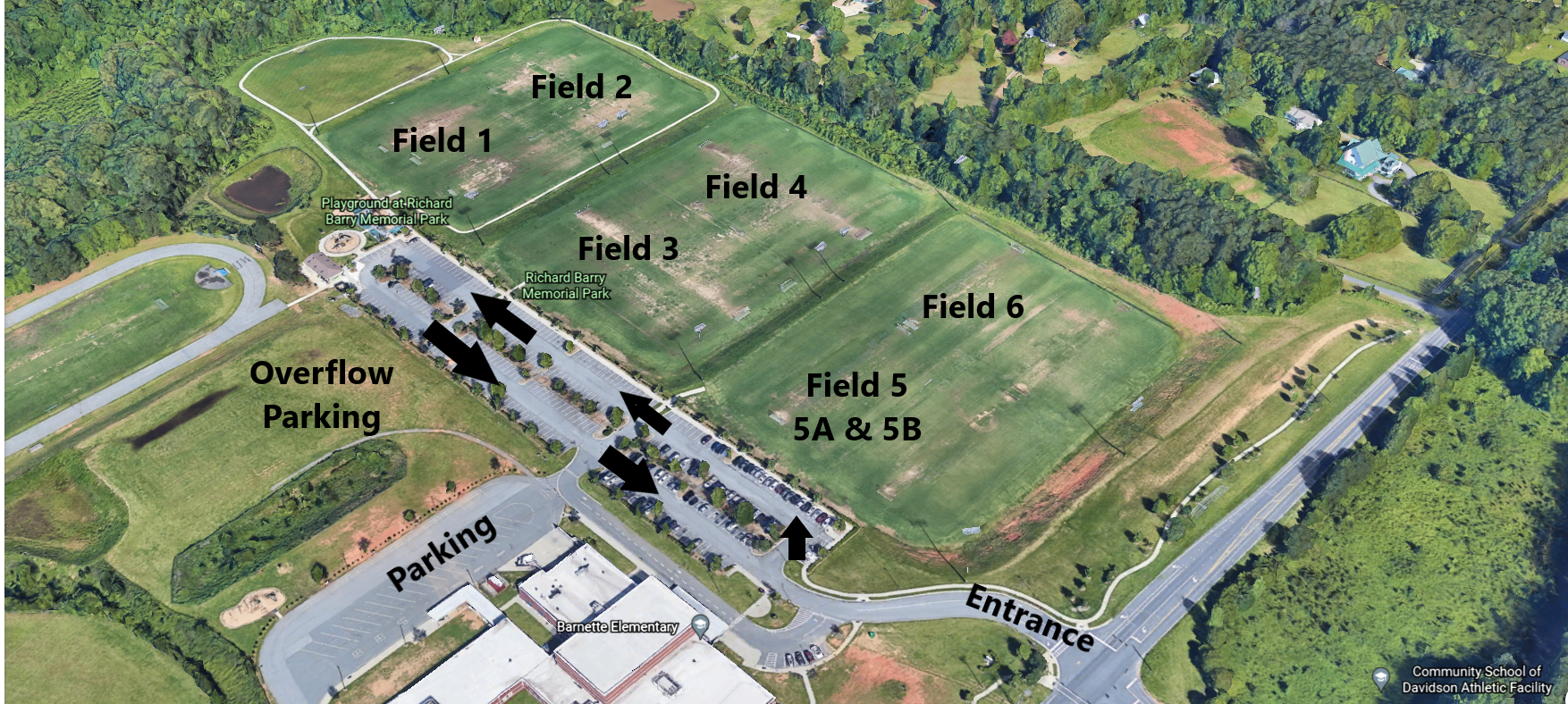 College Coaches RSVP - All Tournaments
College Coaches
Please complete this quick RSVP.   We will send you rosters via email before the tournament and have recruiting packets on site. 
2021 LKN Fall Classic College Coaches RSVP 
Parents and Players
Click below to see live updated list of coaches in attendance.
All players must complete a waiver in order to play. 
All Tournament Waivers should be completed on League Apps site.
Parents Registration/Player Sign Waiver Process:
****Go to our registration page and select the tournament and division for your child*****
Select the blue "Register/Sign Waiver" button.
Create a Parent Account. (NOTE: You must have a unique log in for Carpetbagger Lacrosse, if you have a league apps log in with another organization it will not work)
Select "My Child" when prompted for info on who you are registering.
Create a Player Account under Enter Player Info and click NEXT.
When prompted select "Team Player".
Select the player's club team under the drop down menu labeled "Select Your Team".
Complete the rest of the required form fields in the Player Information Section and click NEXT.
Read and acknowledge the waivers and click NEXT.
Add any additional players by clicking "Add another registration".
When all players have been added, click COMPLETE.
Team Admin/Coaches Process
After a team registers, their coach/team admin will be asked to invite players which will send the parent an email asking them to "register".   
Once a parent receives the invitation, they will log in (create a new account) and complete the electronic waivers via the registration process.  Once done the player will be added to the teams roster.
Each player must complete the tournament waiver and the COVID waiver which is automatically done upon registration.   
All teams will be tracked to verify roster submissions and completed waivers.  
This process will allow us to have rosters to provide to college coaches.   
Coaches/Team Admins will have the ability to see who has registered and completed the waivers.   They can also send messages to their team from the website if they desire.  
Registration and Schedule Process
Registration and Scheduling:
We have partnered with our website provider to provide what we hope is a smoother and easier process to register for all our events.   All registrations will now be completed via League Apps.   Please select the Register buttons throughout our site and follow the process.
Scheduling will still occur on Tourney Machine and utilize their mobile app.  
X10 camps coming to Asheville!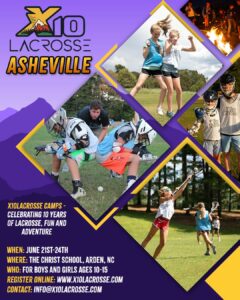 X10 is offering 10% off camp tuitions for anyone who uses "AVLCLASSIC" You can request a friend or teammate as a roommate. If you have any questions feel free to reach out to Emily Bocklet at info@x10lacrosse.com and be sure to check out some great camp videos at www.x10lacrosse.com.  
X10 LACROSSE

WAS BUILT BY THE BOCKLET FAMILY. ALL PROFESSIONAL PLAYERS THEMSELVES; MIKE, MATT, CHRIS, AND CASEY, CREATED CAMPS THAT SHARE THEIR PASSION FOR LACROSSE WITH A BALANCE OF FUN & ADVENTURE. FOR THE PAST 10 YEARS THE X10 EXPERIENCE HAS BEEN UNMATCHED!
CAMPERS WILL RECEIVE INSTRUCTION FROM TOP COLLEGIATE & PROFESSIONAL PLAYERS. BETWEEN SESSIONS, CAMPERS WILL ENJOY PLAYING OUTDOOR SPORTS, RIVER TUBING, CAMPFIRES, EVENING CAMP ACTIVITIES & A CARNIVAL DAY WITH A DUNK TANK.
FIVE DAYS OF MEETING NEW FRIENDS, LEARNING & PLAYING WITHOUT ANY SCREEN TIME! 
Boys Director: Chris Bocklet University Of Virginia | MLL & PLL Pro  
Girls Director: Kara Koolage Salisbury University | Beach Lacrosse | Puerto Rico Senior National Team
Other X10 Lacrosse Camp Locations
X10 UTAH  -  July 26-30
X10 ADIRONDACK  -  Aug 16-20
X10 COLORADO  - Aug 2-5
What the parents have to say:
My kids have gone to X10 day and overnight camps for a few years now and they feel it is simply the best lacrosse instruction they have ever received. I think the camps are well organized, beneficial, and fun! My kids come home tired and excited about lacrosse. I love that they are kept safe, well fed, and well cared for while developing a love for lacrosse. I will keep sending my kids to X10 camps year after year- the instruction is so amazing! The camps are intense and a ton of fun.  -Marissa Hewitt 
I wanted to thank you all! My daughter Ella had an amazing time and her only complaint was that it was too short! Her experience was priceless. She loved her counselors who gave great advice and created long term friendships. Her love of lacrosse and being a teammate was deepened. I applaud you all and thank you."
— Mother of Ella Bahari, camper
"THANK YOU!! Hunter had a blast! The sharing of funny stories and activities is never-ending. He is already looking forward to next year! When we asked him what he loved the most, his reply " Everyone was just so nice, and I met so many friends, it was awesome!"
— Mother of Hunter Ginty, camper

Chris Bocklet and The Bocklet Family
X10 Website Address:  www.x10lacrosse.com
Facebook: www.facebook.com/x10lacrosse
Instagram: www.instagram.com/x10lax
Twitter: www.twitter.com/x10lacrosse